Travel to Sahara Desert via Morocco Travel and Camel Trekking Trips in Morocco
---
These tours listed below are to the magnificent sand dunes of Erg Chegaga. For tours to Erg Chebbi please review to our Kasbah and Sahara trips. Here are some glimpses of Morocco travel.
Sahara Tour 1 (3 Days, 2 Nights)
Marrakech, Ait Benhaddou, Erg Lihoudi, M'hamid, Erg Chegaga, Taznakht, Marrakech
---
Day 1: Marrakech » Ait Benhaddou » Zagora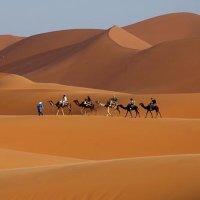 We will meet you at your Riad/Hotel in Marrakech and then we set for our desert tour. We start slowly heading into the peaks of the High Atlas Mountains. This drive known as Tizi N' Tichka pass is very dramatic drive crossing the mountains. It is full of sharp turns, but the high evalations presents us with rewarding views of many peaks of the mountains that look like sprinkled by several Berber villages. Upon our descend we reach small village of Ait BenHaddou. This is one of the most visited and probably the best preserved Ksar (not Kasbah) in Morocco. There time will be set aside to walk the steep streets of the Ksar viewing the old homes and get inspired by the mind blowing images spreading from the top of the Ksar. No wonder, it inspired so many movie makers. Then after lunch we pass the city of Ouarzazate and set towards the Draa Valley. At first we need to cross another mountains region and then descend into the first palm trees by Agdz. The views will be getting more and more impressive as we will be passing many typical villages of the Sub Sahara. Night spend either in hotel or tent in Zagora, breakfast and dinner
Day 2: Zagora »Erg Lihoudi - M'hamid » Erg Chegaga
Today the impressive sand dunes waiting for us. Our fist stop will be the small town of Tamengroute that is famous in Morocco for its green pottery artisians. All different types of dishes, vases and others are handcrafted with beautiful natural paints. Here you can visit underground Kasbah and possible the Coran library featuring very old books even from the 13th century. One of the oldest Korans can be find here written on the animals skin. Then onto M'hamid and Erg Lihoudi where we might have lunch. After M'hamid we say goodbye to the road as we set into the desert sahara trips fully trusting to our drivers knowledge of the area as there are no routes. It is only sand, patches of rocky area and eventually tall sand dunes that are spreading over 40 km. Here we saddle our camel trekking around Morocco, perhaps visiting the highest sand dune of the region. Challenge yourself and claim on top for the views of the never end sea of sand on the horizon. Night in tents with entertainment, breakfast and dinner
Day 3: Erg Chegaga » Marrakech
Wake up from your celestial sleep and welcome the sun rising and coloring the desert into the spectacle of colors. It is one of the days when we thank to be alive. Here we enjoy good breakfast and then departure in 4x4 vehicles. We will be traveling by another off road that will easily transform us back in time and makes us to see how the landscape has changed over the centuries. We will view dried salt lake bed of Lake Iriqui and the road will line many strange rock creation mountains. Then at Foum Zquid we meet again our civilized world and head across the Anti Atlas Mountains to Taznakht (Berber town full of carpet cooperatives). You are welcome to visit one if you are interested and then again crossing the Atlas to Marrakech. Expected late arrival after 6pm. Drop off at your riad
Sahara Tour 2 (4 Days, 3 Nights)
Marrakech, Ait Benhaddou, Zagora, Erg Chegaga, Taznakht, Marrakech
---
Day 1: Marrakech » Zagora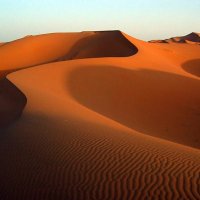 Your driver will collect you at your riad in the morning and then you set together on your Four day desert adventure. At first you climb the highest road pass of Morocco the Tizi n'Tichka pass crossing the High Atlas Mountains to Ouarzazate. You will be making plenty of stops along the way as the views are breathtaking. We will stop in Ouarzazate for lunch before resuming our journey to Zagora. We will be continue our travel along barren, arid region, really desert already. The road will be mountains as we at first claim up again and then descend into the palm paradise of the Draa Valley to Agdz. The valley is very important to Moroccan people in the South as it brings many fruits and vegetables as well as grass for animals. It is beautiful stretch that we will line our road to Zagora. Some of the stretches are unbelievable, the green palm trees agains the backdrop of the dried mountains. We will be passing many villages that Nomads and Berbers built in and around the valley. It is said that the sweetest and best dates comes from the Draa. Night in Zagora, breakfast and dinner
Day 2: Zagora
»

M'hamid » Sahara desert

Morning departure as we follow the Draa Valley all the way to M'hamid. The views today will not be as impressive and mostly the valley will be gone from our views. Possible stop in Tamengroute, where we can visit underground Kasbah, pottery artisians and old library. Upon arrival to M'hamid we set to get the last supplies such as water for our desert tour. There will be no other places to buy anything till next day afternoon. Here the road will dissolve into nothing as we set in our WD in the desert. We will be traveling about 60km off road that will be partially rocky plains to fine sand dunes. Your driver will make pleasant stop at Oasis Sacre, a real water source in the desert. Then we reach Erg Chegaga where we saddle our camels and camel trek and marvel a the scenery around us during magnificent sunset. Night in tents, breakfast and dinner with music
Day 3: Sahara Desert » Foum Zquid » Ait BenHaddou
We advice to be an early riser and not to miss the sunrise waking up the desert back to light. After breakfast we say goodbye to the sand dunes and continue our off road driving this time to Foum Zquid. It is beautiful off route opening the landscape to mesmerizing views that will set in your memory of Morocco travel. Then at Foum Zquid we reach pave road, stores and restaurants again. Here we journey North to Taznakht, Berber town where you see carpets hanging everywhere and then onto Ait BenHaddou, the well known Ksar. Overnight in Ait BenHaddou, breakfast and dinner
Day 4: Ait Ben Haddou » Telouet
»

Marrakech

Morning we get the chance to spend at the Ksar of Ait Ben Haddou. A lot has been written about this cultural heritage site of Morocco and UNESCO protected area. The sight played an important role in the farewell past as it has been used as an important stop on the caravan routes bringing mainly salt, gold, ivory and slaves. Walking along the streets and viewing the old homes we get to see how life must have been in this Ksar. Even though it is bit of challenge we recommend to brace yourself and walk up to the upper levels of the Ksar for very rewarding views of the region. Then it will be time to cross the High Atlas back to Marrakech. Not to travel all the way the same route, we will be taking smaller route along the Ounila Valley passing small gorge and river. The route will pass some important old salt mines and Kasbah Telouet that is good to visit too. In big need of repair, it is still an impressive Kasbah worth your visit. Then we meet the Tizi n'Tichka that will take us to Marrakech. Expected arrival around 5pm, drop off at your riad.
Sahara Tour 1
Sahara Tour 2