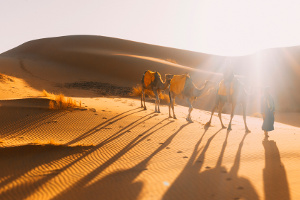 We are thrilled to announce that our ERG CHEGAGA SAHARA DESERT TOUR WITH CAMEL RIDDING has been chosen as an Unordinary Trip of the Month by Infohub.com, the #1 travel portal on the Internet specialized in the out of ordinary adventures. As a major Moroccan tour operator, we are truly excited to see this highlight and believe this is a great opportunity to further promote international tourism in Morocco, inciting more people from all over the world to come and explore our beautiful country.
In connection with this, we are happy to offer our customers a special price! Any of you who book the above tour before 30 September 2017, may be eligible for a very special price from InfoHub's sister company GPSmyCity – publisher of travel apps for Apple and Android. The GPSmyCity application features offline maps, self-guided walking tours and travel articles for 1,000 cities worldwide, using which you can turn your mobile into a personal tour guide. With this application you can explore Marrakech, Casablanca and other major urban destinations of Morocco, Africa and further afield on your own, at your own pace. The GPSmyCity app works offline so there's NO need to worry about roaming charges when traveling abroad.
A lucky winner, chosen randomly, will get a one –year full membership of GPSmyCity app including access to ALL the GPSmyCity content – over 6,500 self-guided city walks and travel articles – to the total value of over $8,000!!!
Book now and enjoy your Sahara adventure with Your Morocco Tour!