Atlantic Coast of Morocco
---
This tour is good all year round, but ideal for summer months. Let us take you to cool yourself in the Atlantic cool breeze where temperatures are ideal and to the Ameln Valley nestled in the peaks of Anti Atlas Mountains with distinctive rock formations. Tour is customizable, email us for details.
Day 1: Marrakech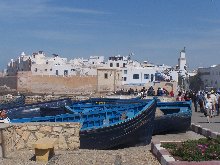 Pick up at the airport at Marrakech Menara International Airport. Hotel transfer depends on time of arrival. Dinner, Hotel.
Day 2: Marrakech » Essaouira (160km)
Pick up in Marrakech at your Riad/Hotel and travel west to the Atlantic coast tour. Visit the UNESCO protected city of Essaouria. Essaouria - an Arabic term for "the wall" - is an enchanting fishing harbor reflecting the Portuguese character of settlers from the 16th century. The enormous fortress of white washed, blue-shuttered houses (built at sea-level) is famous for its fine handcrafts. The city flourishes in marquetry, the art of working wood with ebony, mother-of-pearl, and silver threads. Dinner, Hotel.
Day 3: Essaouira » Agadir (175 km)
Morning departure from Essaouria towards Agadir. Visit to Sidi Kaouki beach; its undisturbed sand dunes and argon shrubs make this beach one of the most beautiful in all of Morocco. The beach of Taghazoute, a paradise for surfers, offers excellent sea views and the pleasures of fresh Atlantic Ocean air. Visit the beach in and see the new (and very European) city of Agadir. Dinner, Hotel.
Day 4: Agadir » Sidi Ifni (180 km)
Continue your journey to the laid back city of Sidi Ifni. The Spanish flavor and Art Deco architecture makes for a relaxed - yet stimulating - visit. Travel onward to the village of Tiznit, where the locals dress in traditional costume and sell hand made Berber jewelry. Dinner, Hotel.
Day 5: Sidi Ifni » Tafraoute (220 km)
Our Atlantic Coast tour journey continues to the Anti Atlas, where we visit the towns of G'limime and Tafraoute. The area is known for almond trees, argan oil, and the production of babhouches (a traditional Moroccan leather shoe). Close the day with a relaxing walk in the Amen Valley - where weather-worn boulders change from pink to gray to gold depending on the time of day. Dinner, Hotel.
Day 6: Tafraoute » Taroudante (190km)
Depart via Chtouka Ait Baha to the town on Taroudante. Taroudante (nick-named the "mini-Marrakech") is an elegant town encircled by a red ocher wall. Taroudante is a fantastic shopper's paradise for aficionados of unique silver items. Dinner, Hotel
Day 7: Taroudante » Marrakesh (160km)
Leave Taroudante via the Test Pass and see the Berber Mosque - the Tin Mal. It is one of the mosque that can be visited for non Muslims. In Marrakech visit the Menara Gardens, Koutoubia Minaret, Saadian Tombs, and Bahia Palace. After lunch, tour around the Agdal Gardens, the Gueliz district, and the ancient Medina. Enjoy the end of your day visiting the markets and the famous Djemaa el Fna Square. Dinner, Hotel
Day 8: Marrakech » Airport
Airport transfer depends on you departure time. End of Atlantic Coast Tour