The most luxurious riads/hotels in Fez, Morocco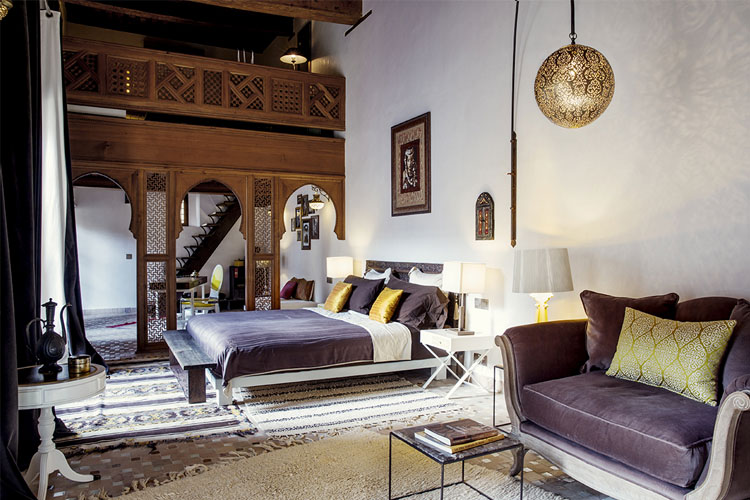 Fez is a remarkable city – though might not be for everyone. It is the core of ancient times. Visiting medina of Fes is like walking through a historical museum , it's like being taken back centuries in the past to once capital of rich and powerful merchants.
It has plenty of traditional riads offering opulent Moroccan style of accommodation with arches, colorful tiles , cedar wood work , refreshing fountains – studded courtyards , roof top terraces and much more.
Here are our top luxury places in Fes
Riad Karawan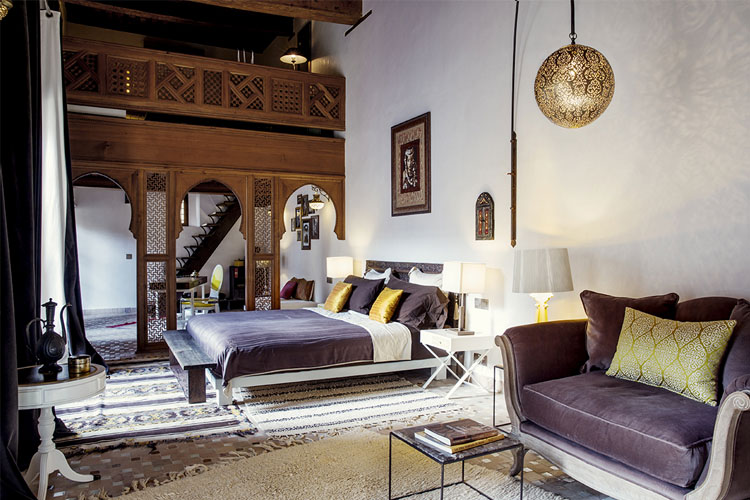 Riad Karawan building has a long history behind itself. It used to be the grandest harem in town. It was a large complex of gardens , cooled tinkled fountain where pasha was entertained. The current owner did fantastic job in restoring this riad to its long past glory.
The careful sourcing of exceptional materials available in Fez has paid off. The rooms are remarkable with mosaic tiles, richly painted wood, silk embroidery , plaster and filigreed lanterns and more. The suites are very spacious and feature interior and exterior balcony.
This riad is exceptional and will not disappoint savvy traveler and lovers of luxury sheltered away from the busy streets of Fes.
Palais Amani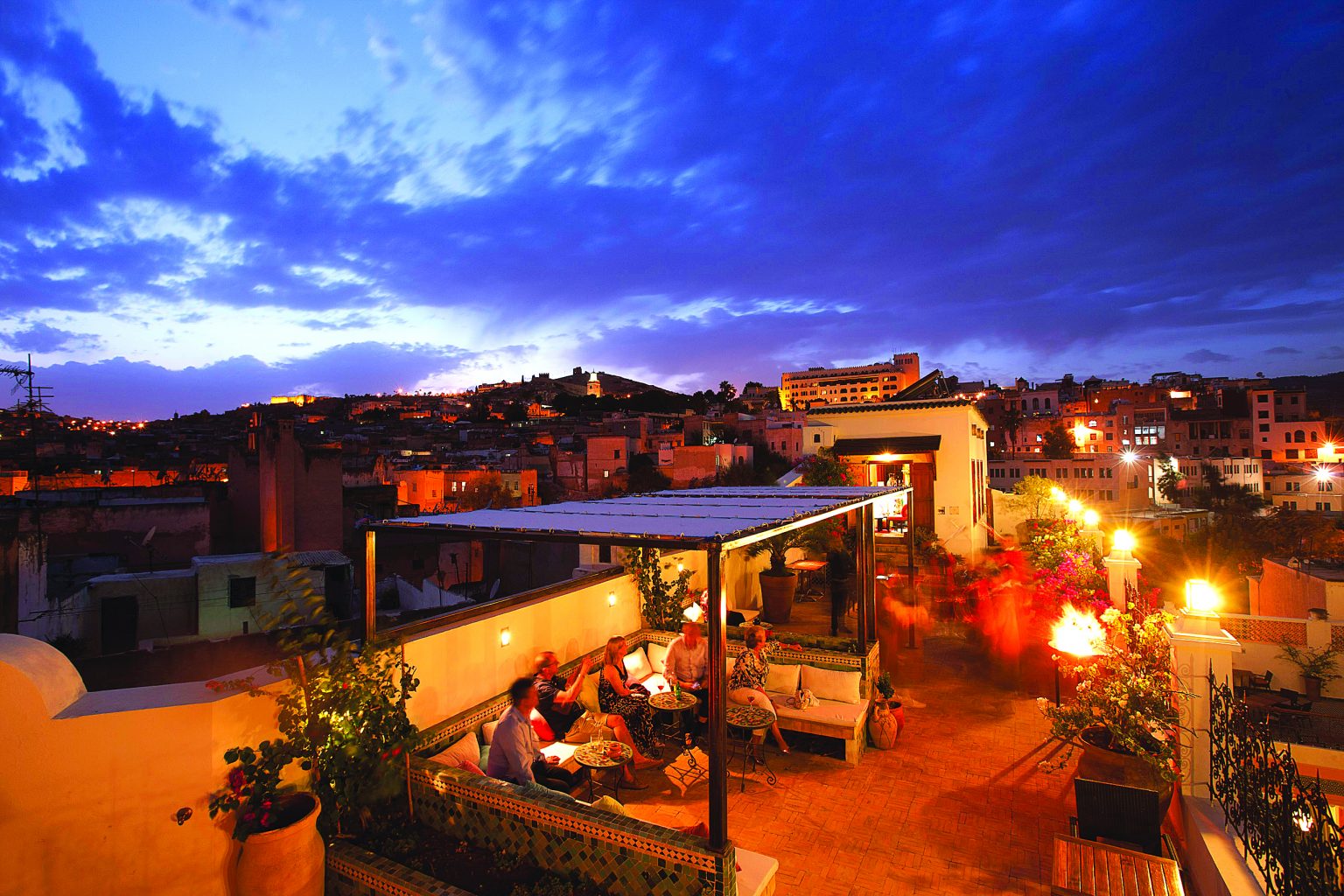 The origins of this palace dates back as 17th century. It has changed several owners mostly healthy and prosperous merchants. However, since the 60's it has been left to decay with just guardian and his family living here. The new owners European and Moroccan descend understood the prospective of this place. They work intensely to give a full value to this incredible site.
Today Palais Amani offers 18 different type of rooms from classic to large suites and apartments offering luxurious accommodation suited for any discerning traveler. It is great place for slow wander. The central courtyard with the cooling fountain and Islamic garden is just calling for a meal in the shades of the trees. Or their huge rooftop patio is an oasis of peace with fantastic views and birds chirping in background.
Palais Amani offers yoga , hammam and cooking classes.
Riad Fes
This used to be the only finest riad in the region for very long time. It is accredited with Relaix & Chateaux which guarantee a high quality.
Note that riad Fes composes of five riads with total of 33 rooms. These riads once belonged to Fassi families, wealthy and highly influential family from 19th century in Fes. In Riad Fes you'll find the typical work of local artisans from beautiful zellige tiles, cedar art works and carved stucco.
This riad is located in the medina car free zone but Riad Fes is reachable by car so you don't have to drug your luggage around the medina to get to your riad.
Palais Faraj Suites and Spa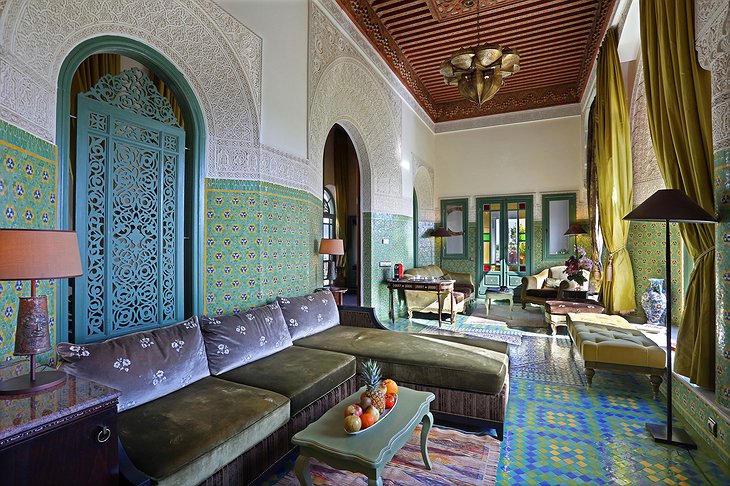 Equally to the other riads and palaces , Palais Faraj Suites and Spa has been also restored and modernized from 19th century palace. Unique work of 25 rooms and suites has been designed by the former king's architect Jean Baptist Barian so will not disappoint.
Here you'll find tailor-made furniture, amazing collection of artwork and paintings, cedar wood ceilings sparking chandeliers and again exquisite tile work.
We recommend taking the opportunity to dine in its well- known restaurant with wonderful views and pamper yourself in their wellness area. Or enjoy the large outdoor swimming pool. Palais Faraj offers many traditional workshops from Fassi pottery, cooking and Zellige which is a lot of fun to try.
Palais Faraj is not located in the old town – medina of Fes. But it is just 15 minutes leisure walk from the main Blue gate into the old city. Car can bring you directly to the door of the hotel.
Hotel Sahrai
This is not a riad nor palace, but typical style hotel with Moroccan feel that will spoil you. It lacks the classic courtyards but offers infinite pool that opens to a terrace with magnificent views. The rooms and lounge areas are highly decorated with Moroccan and Andalusian artistry. The Givenchy spa is everything you may need from luxurious spa after day of wondering the old streets of Fes.