What's the deal between standard and luxury desert camping?
Do you wonder that? Are you thinking to possibly upgrading but are not sure if it's worth it to spend the extra cash?
Well, there is big differences between standard and luxury camping. Though needless to say some luxury camps are really not luxury, but rather transition between standard and luxury in spite of calling themselves luxury. Choose wisely when upgrading your stay to luxury camp.
Here is list of important aspects to look at when decising on which camp to stay:
Location, location, location
Location is everything, well not exactly but it means a lot. Here the difference lies between camp to camp, no matter if it is luxury or standard. The thing to look for is how deep you are in the desert dunes and if there are any other camps nearby. Many luxury camps (not all!) in Erg Chebbi are located close to the dirt road or village and standard camps often way too close to each other. You can hear music coming from one camp to another.
Standard tents are generally made of black wool and inside you find carpets or blankets covering the floor and some type of bedding. It can be only mattress, some camps have beds. Blankets and pillows are provided so no need to bring sleeping bag.
Luxury tents are bigger (some can be really large) and have proper bedding with some furniture (depending on luxury camp, can be very basic to nicely appointed staff)
Standard camps have toilets only and there are located behind the camp and are shared with everyone staying in camp (though we saw camps without toilets at all!). Toilets in standard camp generally give bad odor, be prepared for it.
In luxury camp you will find shower, sink and toilet right in your tent. Some luxury camps have bathroom as part of your sleeping tent. Some the one of higher standard have bathroom set as another attached tent (like stepping into another room). Please note that you might not always get running water in luxury camp especially if you are planning trip to Erg Chegaga where water is very rare. In luxury camps there you find chemical toilets and buckets fill with water for your shower.
Standard camps don't have any built facilities. They might have some basic restaurant set up as dining tent, but most have just campfire where meals are served. They are set up for one night only, for clients to come in the evening and leave next morning.
Luxury Camps can have as basic facilities as the standard camps. Others though provide many relax places around the camp from cushions, salons, sun loungers. they generally have dining restaurants, some might even have kitchen on the property. They are great for 2 nights and more stay.
Standard camps provide camel treks to and from camp and some migh offer possibility of sand boarding for additional cost.
Luxury camps generally include many more activites in price like camel trekking, sand surfing, guided walks, 4x4WD driving on the desert dunes and more.
Standard camps are very affordable on average of €40 per person per night including camel trek, night in tent with breakfast and dinner
Prices of luxury desert camps range widely. "Transition" camps calling themselves luxury just because they offer private bathroom in the tent cost on average €100 per person per night. Camps that are indeed luxury can cost on average €200 per person per night and some migh even require minimum of 2 night stay. The real luxury camps offer their stays as all inclusive so another reason to spend 2 nights to fully get your value.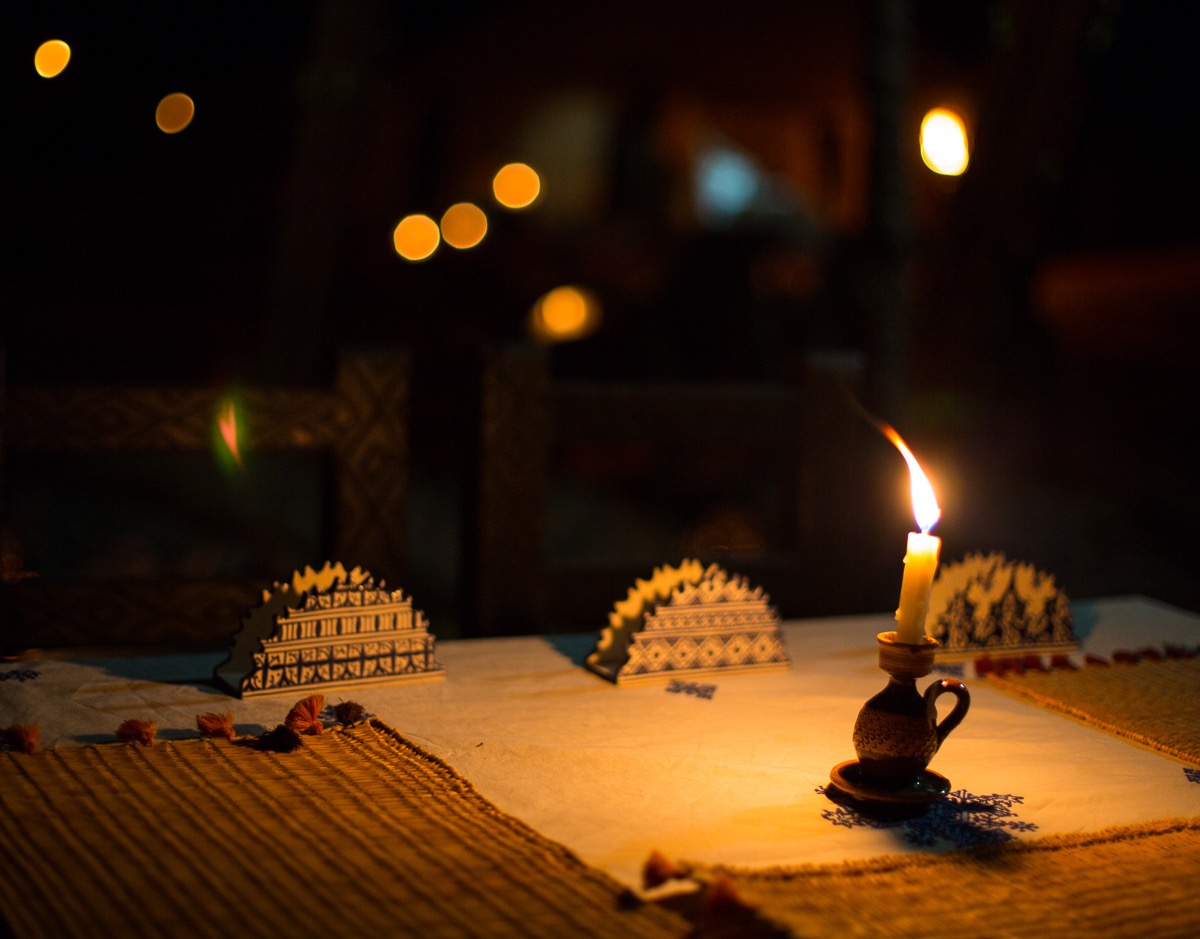 This one is difficult to judge and really varies from camp to camp, no matter if luxury or standard. From our experiences though meals at luxury camps are much better presented, there is more food and broader variety and generally taste better too.
Standard tents are made of black wool. They get extremely hot especially in warmer months. Many travelers opt to sleep outside as the heat inside the tents can be unbearable. Many of the "transition" camps use exactly the same tents.
Luxury camps have large white tents on the exterior. They are all hanmade (sew by hand) and can differ on the interior depending on each person design. Some type of heating is provided in winter months.
Service is an important part of your desert experience. Here the difference lies in the camp itself, not whether the camp is luxury or standard
We hope that this is in some way helpful in deciding where to stay in desert. But for any questions or comments, suggestions, please feel free to email us. Pictures above are from all different types of tents described above.